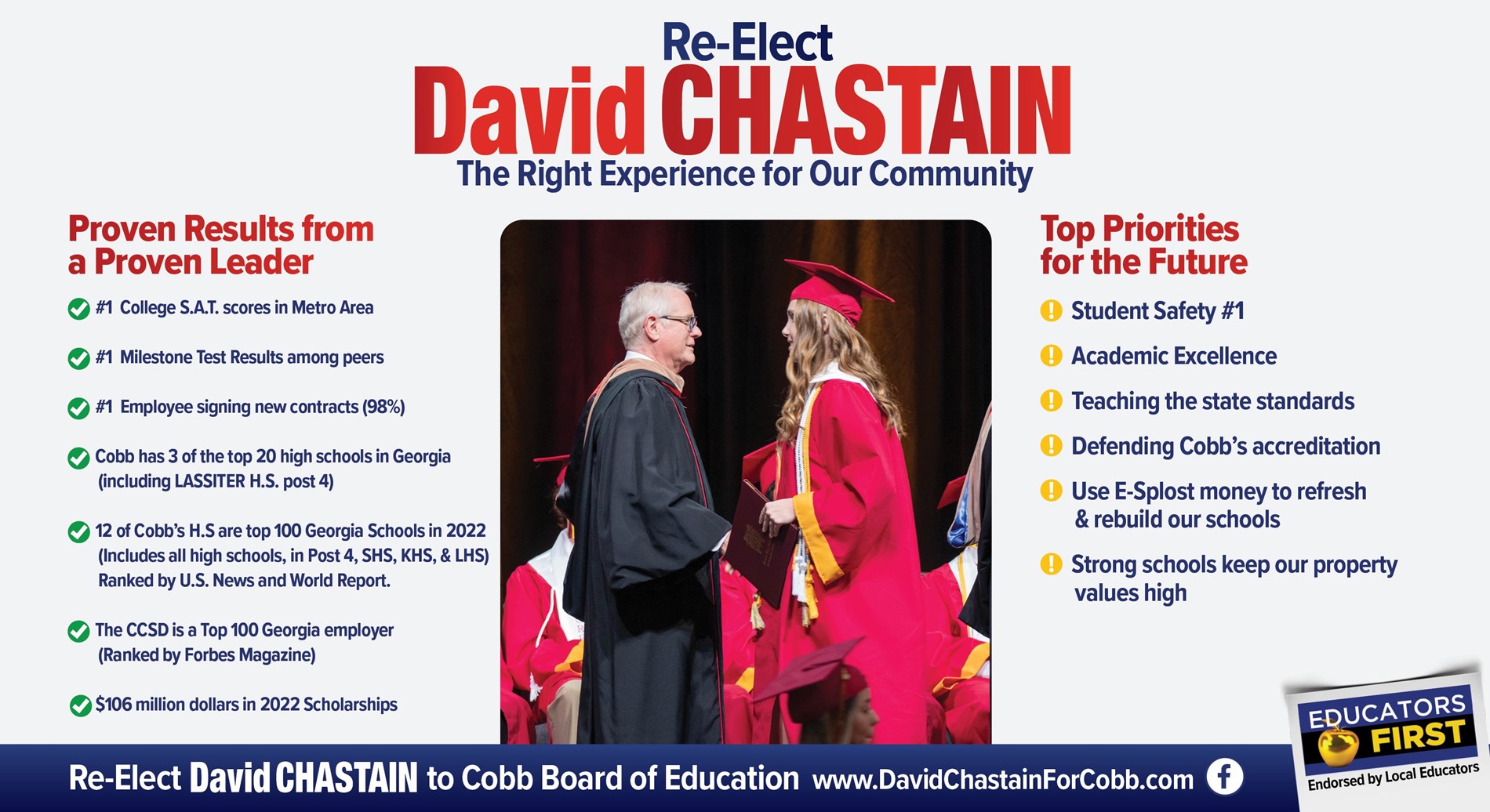 Meet David Chastain
David Chastain moved to Cobb County when he was 10 years old, in 1967. David, a graduate of Wheeler High School, holds a BBA degree from the University of Georgia (Go Bulldogs!). He has served on the Cobb County School Board since January 2015. He represents Post 4, which includes the Kell, Lassiter, and Sprayberry high school clusters. Mr. Chastain is currently serving as the Board Chair, having been elected by his board colleagues three separate times. He has twenty-five years of experience in the aeronautics industry, performing in various expanding roles to support international and domestic contracts. Prior to that, David developed and supported wholesale distribution networks in the paper, sanitary supply, and industrial packaging industries.
David presently serves on the Advisory Board of the School of Government and International Affairs at Kennesaw State University.
He and his wife, Lori, have three adult children, all graduates of Cobb County schools, and, by the way, all are married to graduates of Cobb County schools. Presently, all four grandchildren are destined to be graduates of Cobb County schools.
Now empty nesters, David and Lori are active in numerous community activities. They spend much of their free time spoiling their grandkids and, when not at the beach, are planning their next trip to the beach.
Please join our campaign to keep Common Sense leadership on the Cobb School board. - David
<quillbot-extension-portal></quillbot-extension-portal><quillbot-extension-portal></quillbot-extension-portal><quillbot-extension-portal></quillbot-extension-portal><quillbot-extension-portal></quillbot-extension-portal><quillbot-extension-portal></quillbot-extension-portal>